Gists
14-Year-Old African American Makes History At Spelling Bee Finals
A 14-year-old has made history by becoming the first African-American to win the US Scripps National Spelling Bee.
Zaila Avant-garde from New Orleans, Louisiana, cruised to victory with the word "murraya", a type of tropical tree. To get to that point she had to spell out "querimonious" and "solidungulate".
Zaila saw off a field of 11 finalists on Thursday to win the title and bagged the first-place prize of $50,000 (£36,000) at the event in Orlando, Florida beating 12-year-old Chaitra Thummala of Frisco, Texas in the final round.
Zaila is the second black girl to win the tournament – Jody-Anne Maxwell, of Jamaica, was crowned champion in 1998 at the age of 12.
The bee, however, has still been a showcase for spellers of color over the past two decades, with kids of South Asian descent dominating the competition.
Despite practicing for up to seven hours a day, she describes spelling as a side hobby, Zaila's main focus is on becoming a basketball pro.
She already holds three world records for dribbling multiple balls at once, and has appeared in an advertisement with the NBA megastar Stephen Curry.
Zaila's win breaks a streak of at least one Indian-American champion every year since 2008.
It was the first time since 2008 that at least one champion or co-champion of the Scripps National Spelling Bee was not of South Asian descent, the Associated Press news agency reports.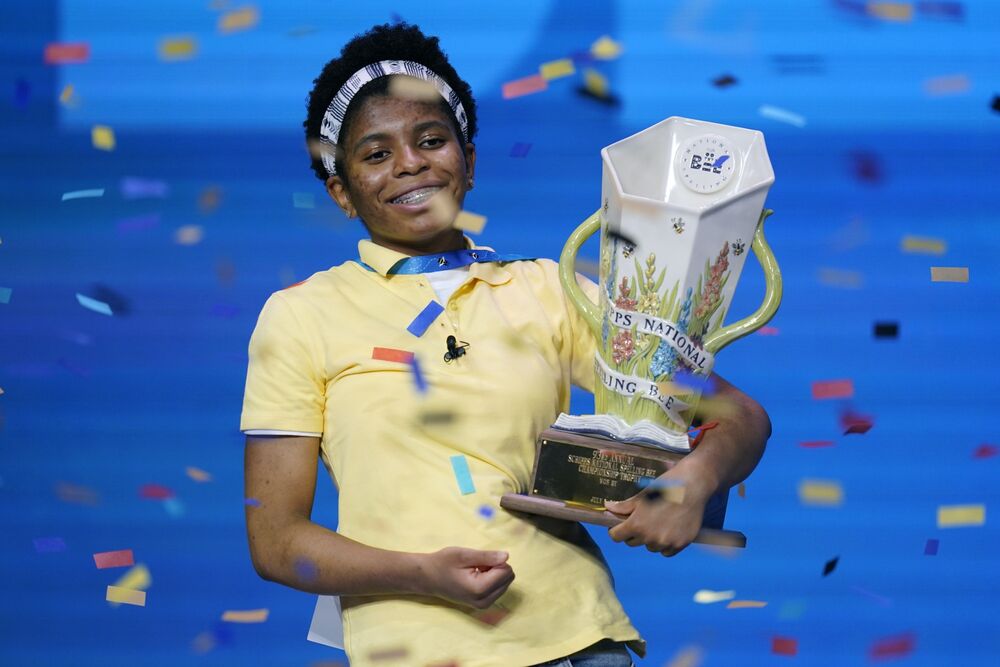 Many top Scripps spellers start competing as young as kindergarten. Zaila only started a few years ago, after her father, Jawara Spacetime, watched the bee on TV and realized his daughter's affinity for doing complicated math in her head could translate well to spelling. She progressed quickly enough to make it to nationals in 2019 but bowed out in the preliminary rounds.
The post 14-Year-Old African American Makes History At Spelling Bee Finals appeared first on FabWoman | News, Style, Living Content For The Nigerian Woman.
PROMOTE YOUR | MUSIC| VIDEO | COMEDY SKIT | MIXTAPES  HERE ON CONNECTNAIJA CALL/WHATSAPP : +2348122390211