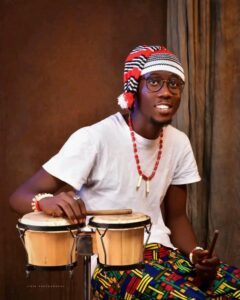 Okwey Amen Friday Uguru by Stage Name "Ugsticks" was born  21th march 1997 in the city of Abia
Stage Name is a Drummer and Decorator his Matrimonial Status is Single at the moment.
Role Model : Benjamin James Cavemen and Danny Conga
What he cares About : Arts and Culture, Children,Environment and Human Rights
Amen F.U Okwey (AKA Ugsticks) is an indigene of Item in Bende Local Government Area,Abia State, Nigeria.
He is a graduate of Economics from Michael Okpara University of Agriculture,Umudike in Abia State Nigeria.
He was born into the family of a music legend, Bro Okwexco. He grew up taking interest in Music production and as such went further to enroll in a music school.
He is a vocalist,a drummer and a percussionist. Currently working with Highest Entertainment as an event percussionist and the Chief Drummer at Church of God in Christ (COGIC),Abia State, Nigeria.
He's creative and positive minded. An achiever, an amazing music coach/mentor to many and above all,a God lover.
Ugsticks have played in so many big events like Tiger comedy night at PANYU hotel aba, Budweiser tour in Aba  with TENI MAKANAKI,  and many other artists as a conga drummer.
PROMOTE YOUR | MUSIC| VIDEO | COMEDY SKIT | MIXTAPES  HERE ON CONNECTNAIJA CALL/WHATSAPP : +2348122390211