Gists
Fans Express Concern Following Disturbing Mental Health Report About BBNaija Star Kaisha
Reality star, Kaisha is currently trending online over reports concerning her mental health.
Unconfirmed reports from a popular blog, Gistlover, the ex-BBnaija housemate is in a critical situation as she battles a mental illness.
See the screenshot below.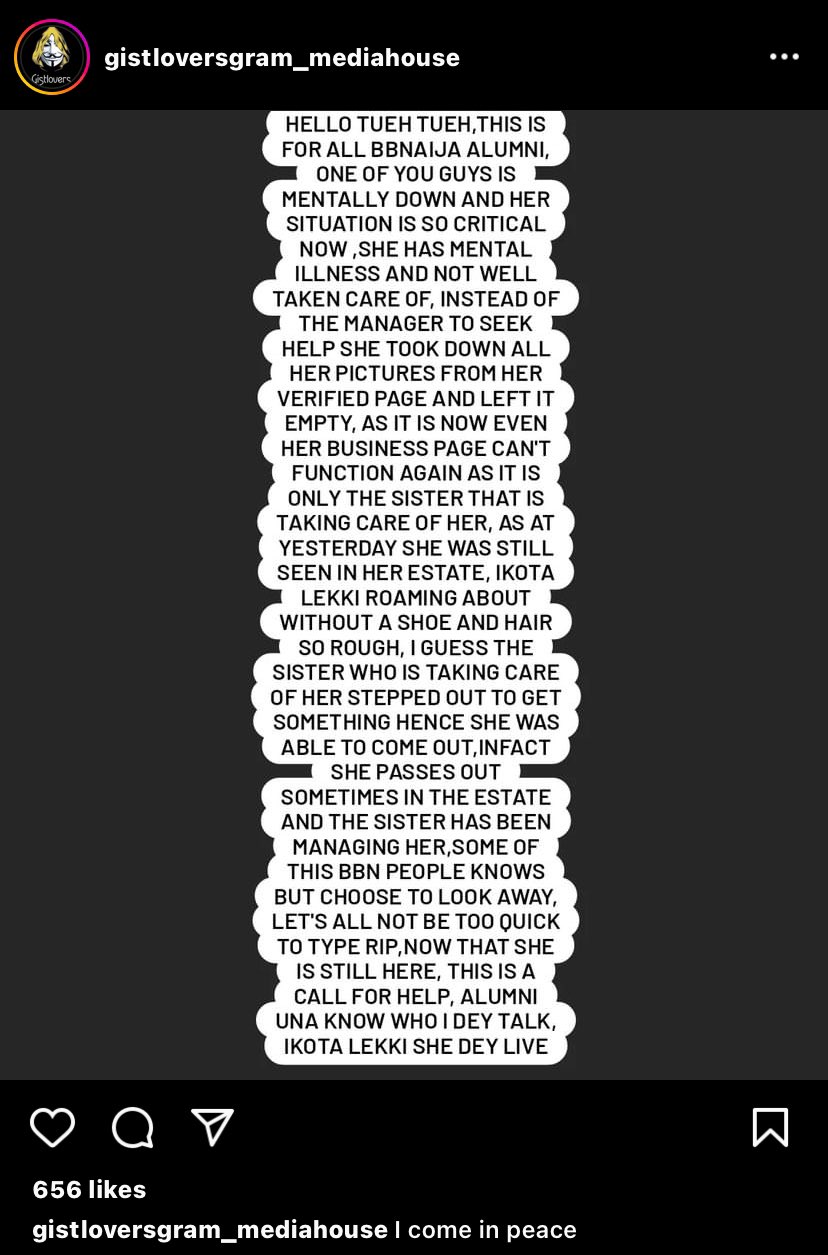 Although her name wasn't mentioned, netizens were able to decipher that it was Kaisha.
A closer look at her Instagram page reveals that all her photos and videos have been deleted.
Following this news, fans and followers have trooped to Twitter to say a prayer for her.
See some tweets below.
Prayers up for Kaisha 🤍🫂

— Berv of Dubai🤍 (@bervelynnnn) November 24, 2022
I cover kaisha with the blood of Jesus, she is fine in Jesus name #bbnaija

— moᴾᴺ (@filled_popcorn) November 23, 2022
I noticed this lady act weird atimes why she was in the show,she talks alone especially when taking her drink..she likes staying alone..Gosh coming out to bbn trolls too nd competition here nd hereGod heal Kaisha ijn

— FUNKEES (@IamFunkees) November 24, 2022
Y'all come here to troll people. These people are humans too. Kaisha's story is heartbreaking. I hope she's okay. May God be with her.

— Fareedah (@standard_fresh) November 24, 2022
Lord please in your mercy let your healing hand rest upon Kaisha restore whole health unto her in Jesus name.#PrayersUpForKaisha

— JMK (@FavouredJMK) November 23, 2022
Lord we pray for Kaisha!! We speak peace to her mind & soul. The calmness of the tribe of Judah over ever unrest by the enemy in her life . We stand upon your promise in John 8:36, Jesus set her free and give her total victory IJN

— 𝖯𝗋𝗂𝗌𝖼𝖺 𝖭𝗄𝖾𝗆 (@prissypa) November 23, 2022
Hmmm.. Kaisha fits this narration perfectly o.
I don't know what could have been her case,but I have always said the hardest part of going to bbn is after-show phase. It's not easy trying to keep up.

BBNAIJA LOCKDOWN ALUMNI & others. CHECK ON THIS BABE O.. MENTAL HEALTH IS REAL. pic.twitter.com/LlVT4kwb2q

— MissYem K (@YemisiKolaa) November 23, 2022
The post Fans Express Concern Following Disturbing Mental Health Report About BBNaija Star Kaisha appeared first on FabWoman | News, Style, Living Content For The Nigerian Woman.
PROMOTE YOUR | MUSIC| VIDEO | COMEDY SKIT | MIXTAPES  HERE ON CONNECTNAIJA CALL/WHATSAPP : +2348122390211